Warzone vs. Battlefield, Phil Spencer Interview, FTC to Challenge Microsoft Acquisition of Activision Blizzard, Indian vs. Chinese Gaming Market, & Pokemon Scarlet & Violet

---
Good morning. I don't know about you guys, but boy, was last week rough! Lol. Having said that: I survived, and life goes on.
Another day is another day to get better.
Looking forward to a brand new week. Let's get after it, everybody!
Also, we are announcing a new Saturday School event on Metaverse X Gaming! This upcoming Saturday (3 December 2022). Scroll to the bottom for more info and to sign up!
---
Top 10 Charts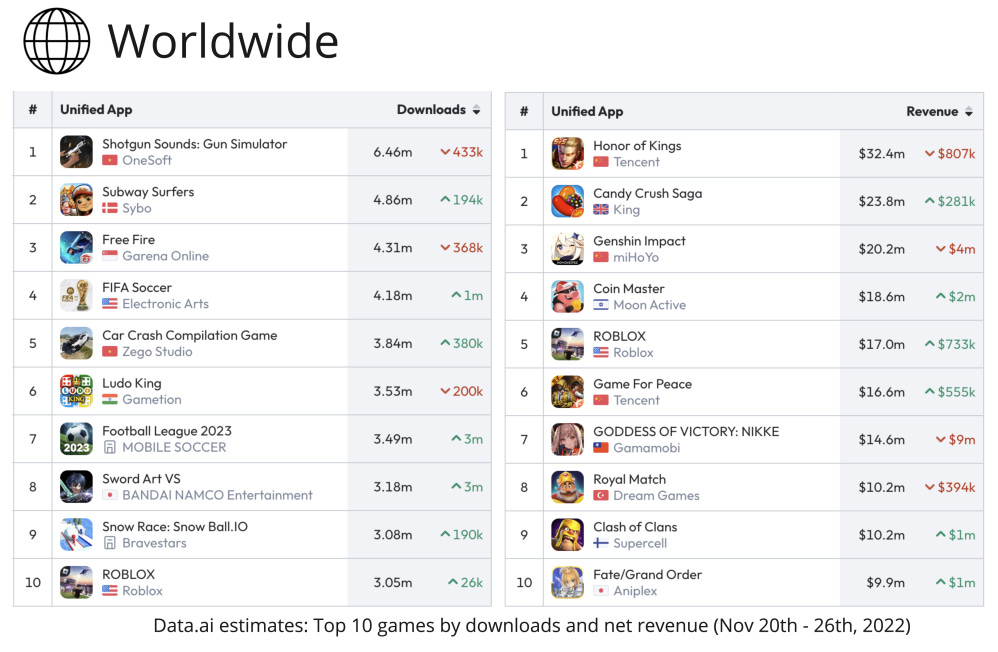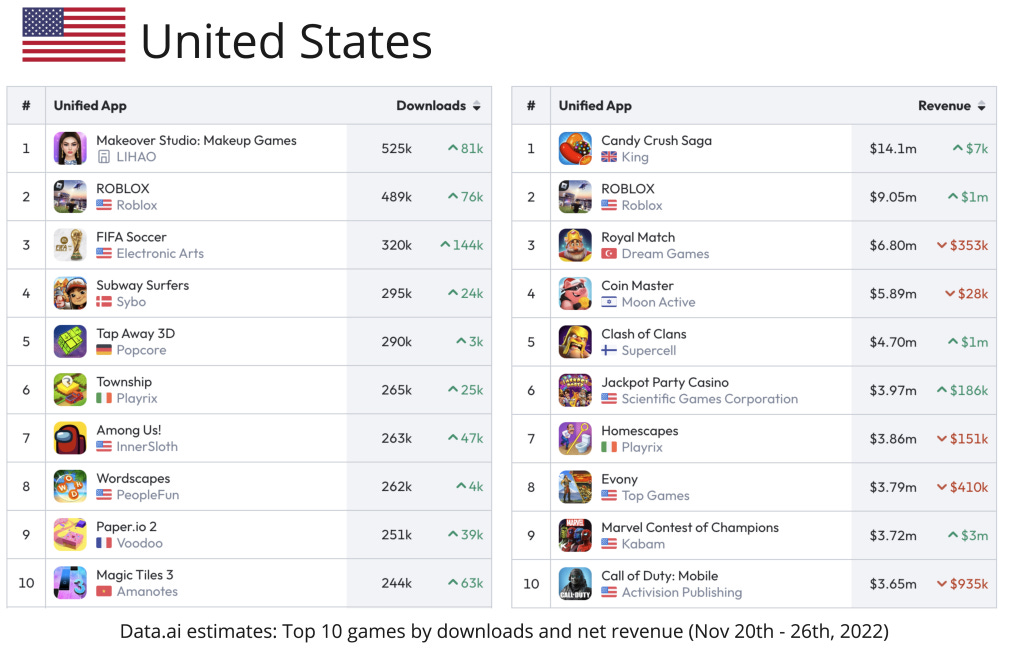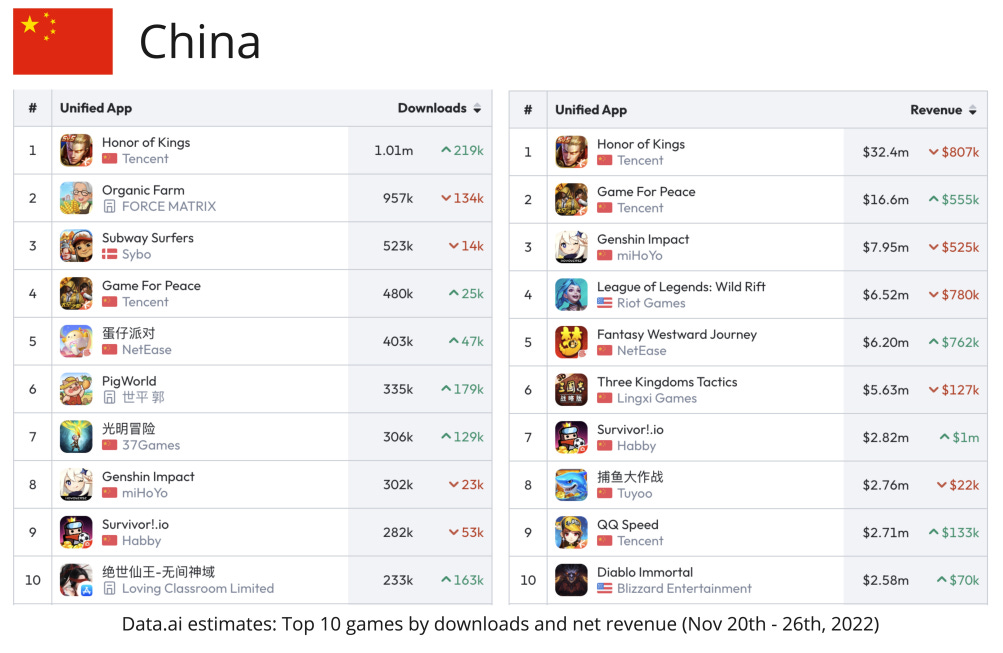 ---
Market Data
Top 10 Publishers by Net Revenue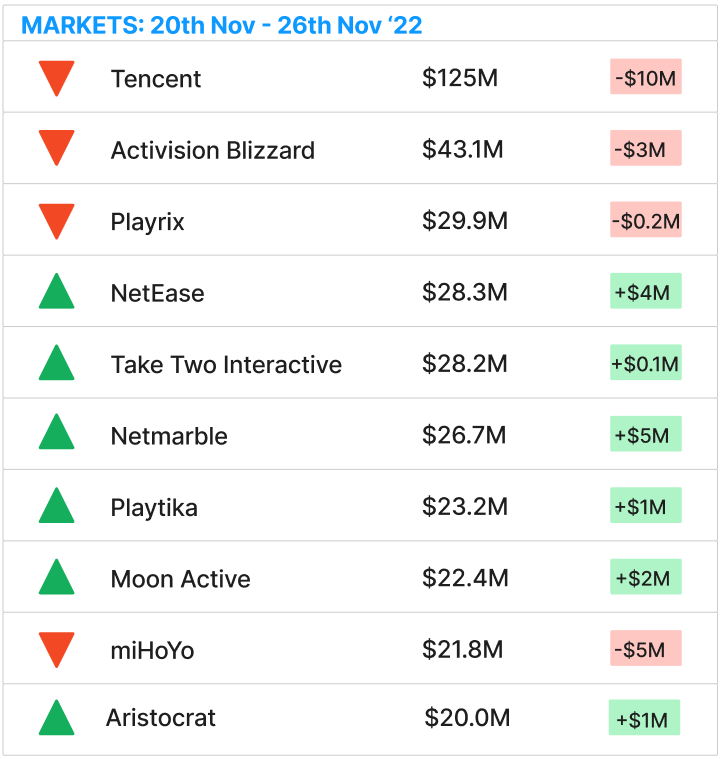 ---
Top 5 News
Warzone Mobile (Activision) vs. Battlefield (EA)
A mobile FPS shooter battle is brewing between the performance of Activision's Call of Duty: Warzone Mobile and EA's Battlefield Mobile.
Battlefield Mobile:
Status:

Open Beta live on Android in The Philippines, Indonesia, Taiwan, Thailand, Malaysia, and Singapore (also available on alternative Android app stores)
Estimated to WW launch within 2022, so maybe next month?

Development:

Industrial Toys (Pasadena)
DICE (Stockholm)
Gameplay:
Warzone Mobile:
Status:

Opened for pre-registration on Nov 17, 2022
Just hit over 35M pre-registrations as of Nov 25
Estimated WW launch May 15, 2023, with the potential to launch in 2022

Development: 4 different studios combined to develop this game

Solid State Studios (Activision's new internal game studio based in Atlanta)
Digital Legends (Barcelona)
Activision Shanghai
Demonware (Vancouver/Dublin/Shanghai/Santa Monica)
Gameplay:
The word on the street is that the relationship between Timi and Activision has been deteriorating significantly (to be clear: rumors!). Hence, while Timi's Call of Duty Mobile is expected to stay in the market, this new game could be a way for Activision to shift margin back to Activision from this franchise on mobile.
The Verge interviewed Phil Spencer, CEO of the newly re-organized "Microsoft Gaming."
This interview had a lot more scope than the headline suggests. The Verge conducted a fairly long interview with Phil Spencer that covered many topics, of which I summarize the most interesting points, at least to me, below:
Microsoft reorganized gaming and promoted Phil Spencer from executive vice president of Gaming to CEO of Microsoft Gaming
The reorganization now treats gaming at Microsoft as more of a separate business with a dedicated marketing team internal to gaming and a separate P&L
Other groups at Microsoft such as LinkedIn are now structured in a similar way
Phil on delays to Starfield and Redfall from Zenimax: "In hindsight, when you look at a game like Starfield, it's taken so long and so much investment in new IP from the team. The decision to give the team the time to build the game that they feel they should be building is just the right thing to do. There are financial implications to those decisions. Weighing what is going to happen, whether it's platform growth, subscriber growth, or frankly, the revenue that you generate when a new game launches, those are business decisions. You definitely have to weigh the outcome of those decisions."
After the Verge kept trying to ram a view of a subscriptions-only world down Phil's throat over and over (Damn Verge, take a chill pill and stop trying to force your own narrative!), Phil answered the question about Microsoft's position on subscriptions: "We don't have this vision of everybody paying us $15 a month. We think the subscription is an interesting business model for certain kinds of games and for certain customers. I really see it as diversifying how people build their library of games or how creators reach the customers they want to reach with the content that they build. It will always be part of the business, in my view. I think people buying and owning their games will be an important part of the business for years and years to come."
Further: "Free-to-play games with post-sale monetization, add-ons, and battle passes that those teams have figured out will be a significant, probably majority of the business for a decade plus. Subscription will augment that. Really, that's the extent of it."
Phil confirmed XBOX X availability will still be quite limited for some time although S should be more available
Phil concedes that console sales may become impacted by a global recession: "We are clearly in the entertainment space. We are not food, we are not shelter. As families are going through economic constriction and managing their cash flow, we are one of the activities that at some point has to fall out of the question, 'What am I going to pay for this month?'"
On the motivation to acquire Activision to bolster mobile:

"I don't think anybody needs that quote from us to understand how irrelevant we are at mobile. Right? Anybody who picks up their phone and decides to play a game would see that on their own."
"In terms of the Activision opportunity — I keep saying this over and over, and it is true — it definitely starts with a view that people want to play games on every device that they have. In a funny way, the smallest screen that we play on is actually the biggest screen when you think about the install base in a phone."
"The real differentiation that Activision adds for us is their mobile capability."

On the Sony handwringing about potentially losing Call of Duty on PlayStation:

"I understand in the optics of this deal that we might want to make — and I'm totally open to doing this — a contractual commitment to Sony for some number of years that says, 'Okay, we're going to continue to ship Call of Duty on PlayStation.' I'm totally open to that. No issue at all. This idea that we're going to write a contract that says 'forever' doesn't make sense to any lawyer. There is obviously a business relationship between the royalty exchanges and other things. You're not going to give up any ability to do what you need to do and the flexibility with the business in the future."
Speaking of Microsoft and Activision M&A:
Politico reported that the Federal Trade Commission (FTC) under Chair Lina Khan is likely to file an antitrust lawsuit to block Microsoft's $69B takeover of Activision Blizzard
The FTC is concerned that Microsoft would get an unfair boost in the video game market
In October, the UK's Competition and Markets Authority (CMA) outlined Sony's position that the acquisition would hurt Sony's ability to compete, for example, by taking Call of Duty off of PlayStation
In response, Microsoft has repeatedly stated it will keep Call of Duty on the PlayStation
From my perspective, the more interesting angle is whether a blocked takeover would impact Microsoft's plans to create an alternative mobile app store. Also note last week's Market Wire, where we reported on Epic's suit against Google alleging payments to block alternative app stores.
The Verge reported last month that Activision and King games would be critical to its mobile gaming store efforts.
This acquisition could have huge implications for Microsoft and consumers seeking alternatives to the Apple/Google duopoly.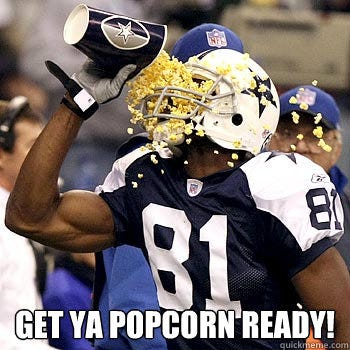 China may still be top of the mobile game, but India is closing in (Pocketgamer.biz)
Pocketgamer recently covered a research report by Niko Partners that analyzed the video games market of China and India. According to Pocketgamer:
Niko Partners' recently released an infographic which paints a gloomy picture for China's mobile gaming industry than they've seen in years, and a much brighter one for India.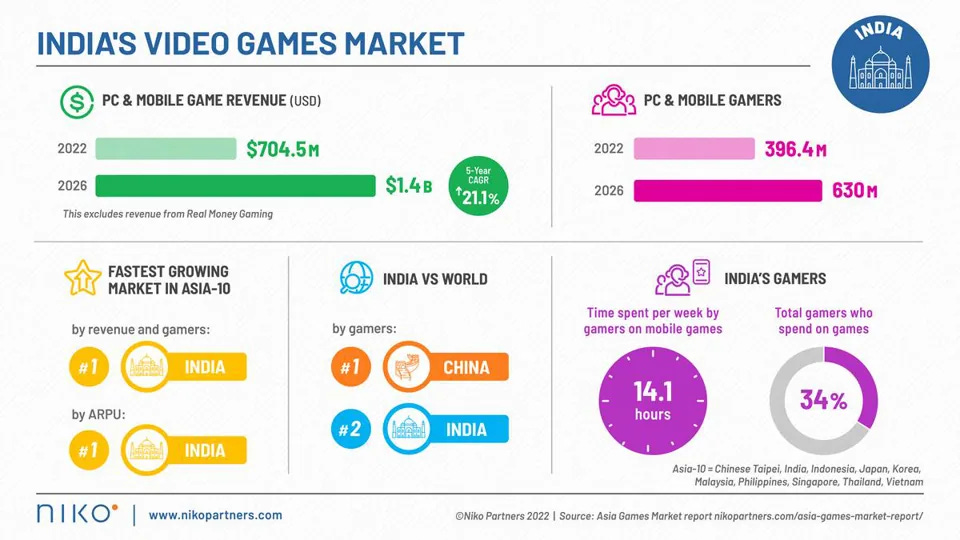 Pocketgamer specifically calls out the following points to make a case for India vs. China:
India is the fastest-growing gaming market in Asia by ARPU and player revenue
Self-identified gamers in India spend 14.1 hours a week playing mobile games
Unlike China which faces game license freezes, India has less restrictive regulations, notwithstanding blocking KRAFTON's BGMI (BattleGrounds Mobile India)
Having said all of that, Pocketgamer then admits that Niko Partners' analysis suggests China's gaming market will achieve a valuation of $8.2B compared to India's $1.4B by 2026. Pocketgamer also then concludes with:
So are we likely to see India overtake China anytime soon? Most likely not for a few years, at least not in all factors.
So basically, they are saying: Gotcha with the clickbait! Lol.
To add more context to this comparison, I reached out to Matthew Kanterman, Director of Research at Ball Metaverse Research Partners. Matthew was also an equity research analyst at Bloomberg covering Asia and was living on the ground in HK, so he knows China!
According to Matthew, regarding this article and the comparison of India to China's gaming market:
On the current trajectory, the median disposable income [for India] isn't on pace to reach the level of that of Chinese consumers. This makes it much more difficult for the Indian gaming market to reach or eclipse that of the Chinese market. Longer term, we need to see the acceleration of the rise of the middle class akin to that which we saw in China in the last three decades for that gap to narrow.
To Matthew's point, it seems that the median household disposable income in China is about USD 4.3K, and in India, currently something like $1K. The average may be more like $10K in China vs. $2K in India.
According to the Japan Times (my favorite magazine for gaming news, obviously), Pokemon Scarlet and Violet broke records for the Switch console.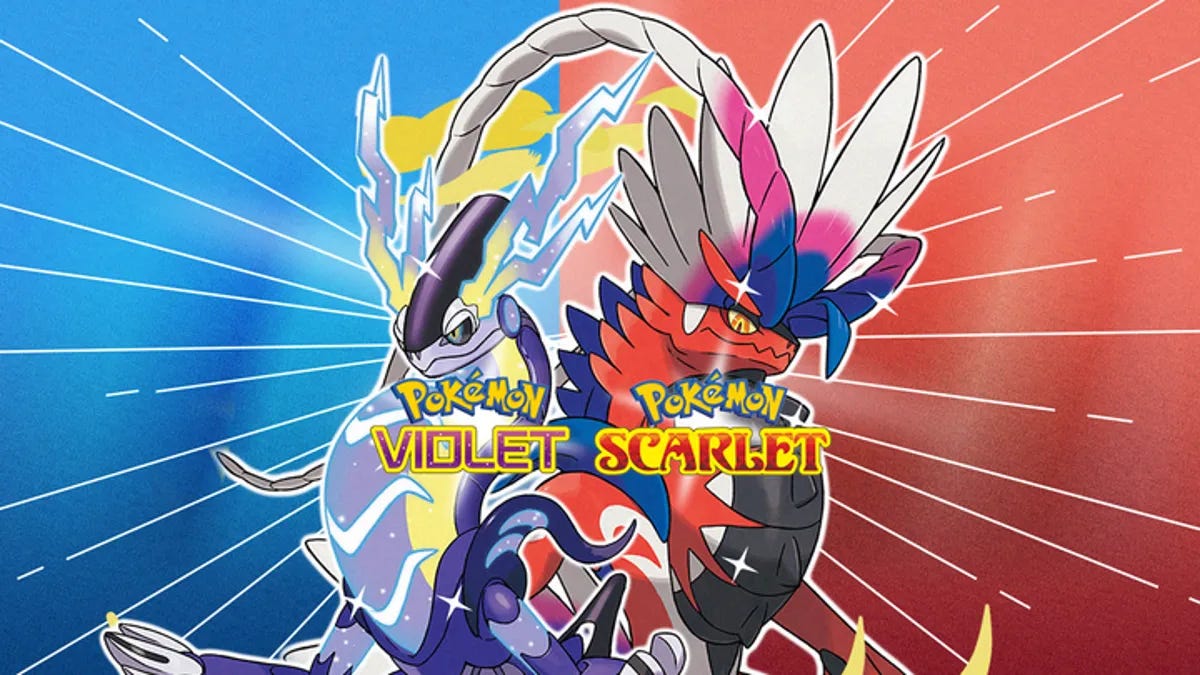 Both Scarlet and Violet are nearly identical if you're not familiar with Pokemon games, so they should essentially be considered the same game
Released on Nov 18, 2022
4M units sold in Japan, 10M in global sales in first 3 days
For comparison, God of War Ragnarok sold 5.1M units over its first week on the PlayStation
Well, folks, I guess I know what I'm buying my kids for Christmas.
---
Written by Joseph Kim and Ryan Wilson.
---
Announcement
Saturday School December 3, 2022: in person in Bangalore or watch via live stream!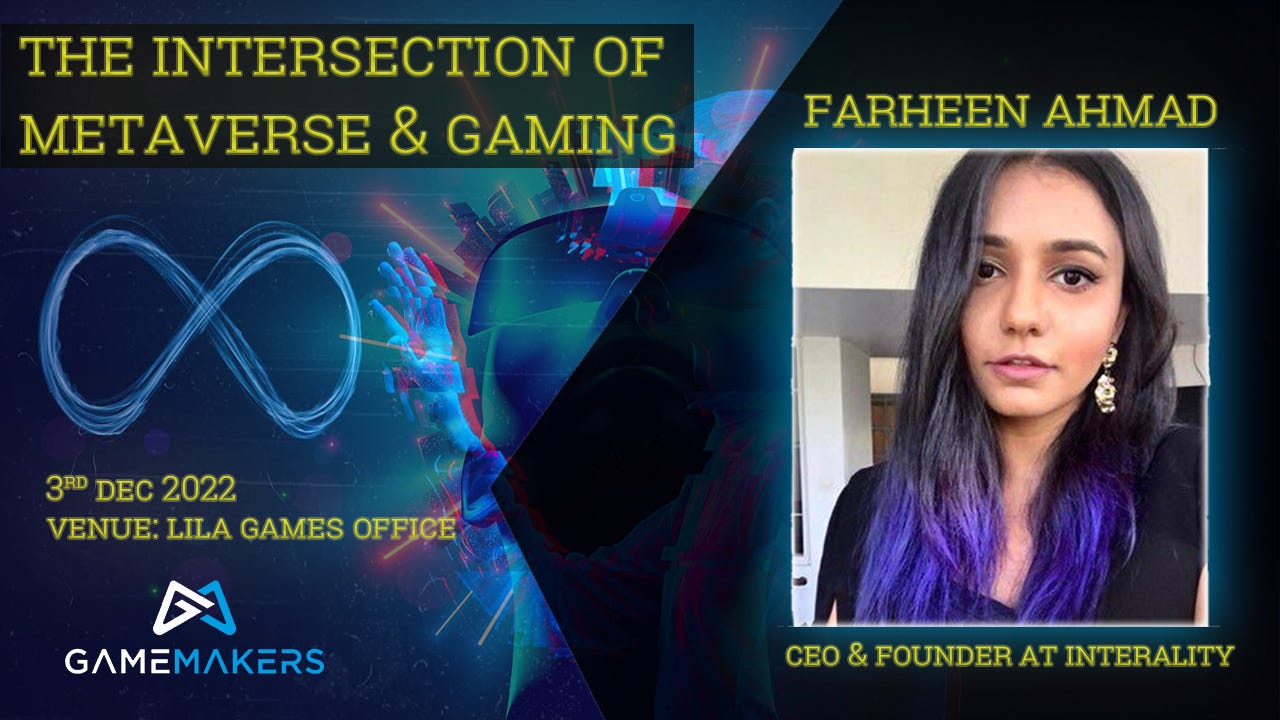 Well, folks, we're back at it. If you're in Bangalore, visit our office and hear from Farheen in person!
After her presentation, you can also ask her how to get lots of followers on Instagram and her other social channels.
Sign up for the live event or to attend in person using the link below: