Year in Numbers 2022, Uber Drivers and IAP, Corruption at Tencent, Embracer Bull or Bear?, & YouTube Demonetizes Violent Gaming Content
Happy New Year! Well, folks, 2023 is here. 2022 was a really huge challenge for me personally, but I was very humbled and grateful for the many opportunities, lessons learned, and the gift of great adversity to overcome.
Wishing you the best in 2023 and the opportunity to elevate your game. Remember the lessons of 2022, but keep your focus on the future.
Let's dominate in 2023!
Note: We do not include the regular data charts we usually publish this week until we work out the data sets we have a green light to publish via data.ai. Stay tuned!
---
Top 10 Charts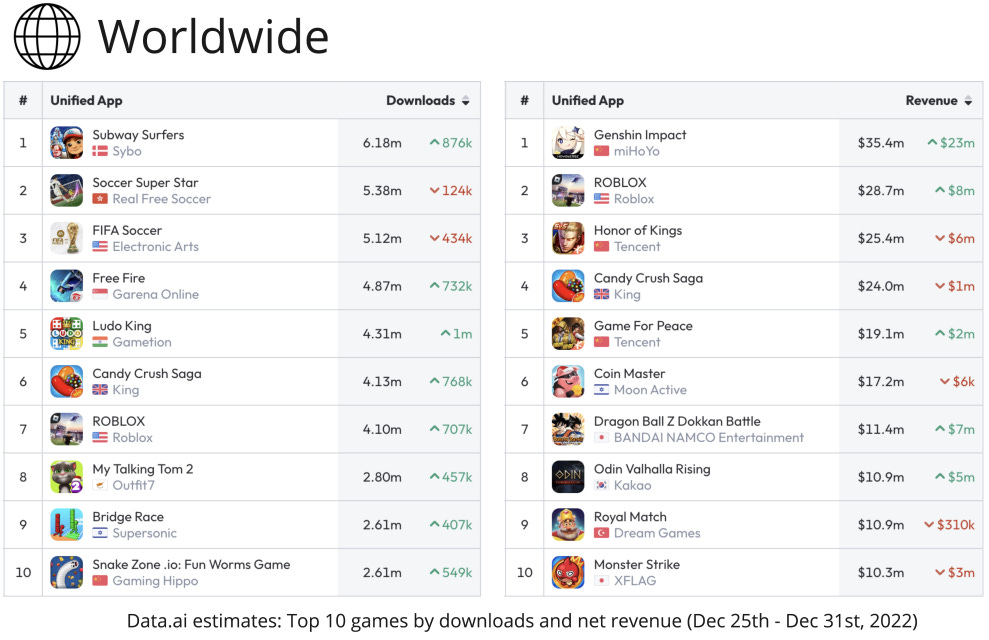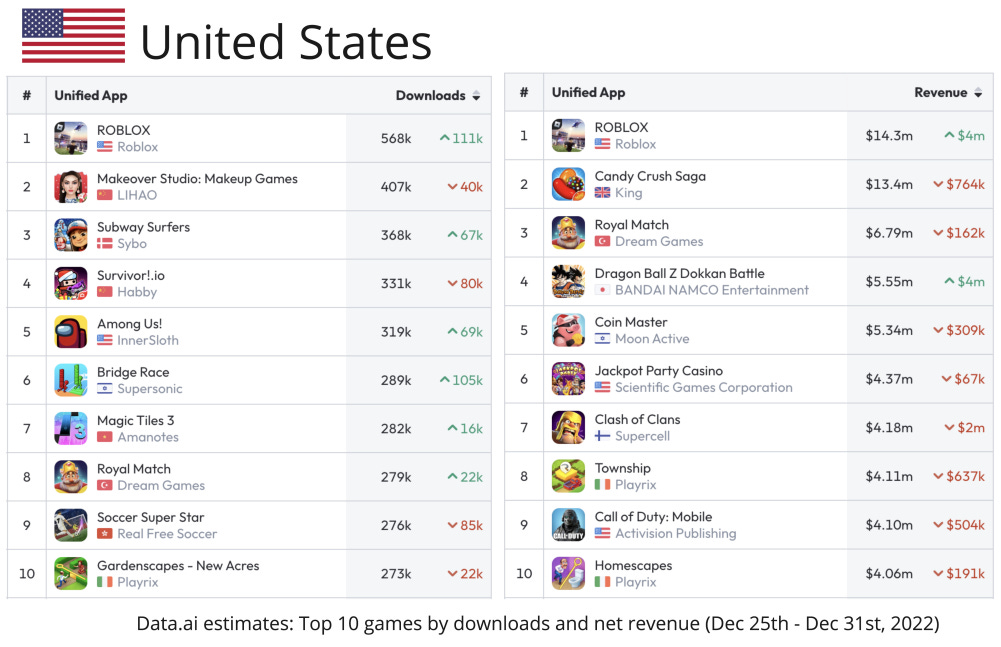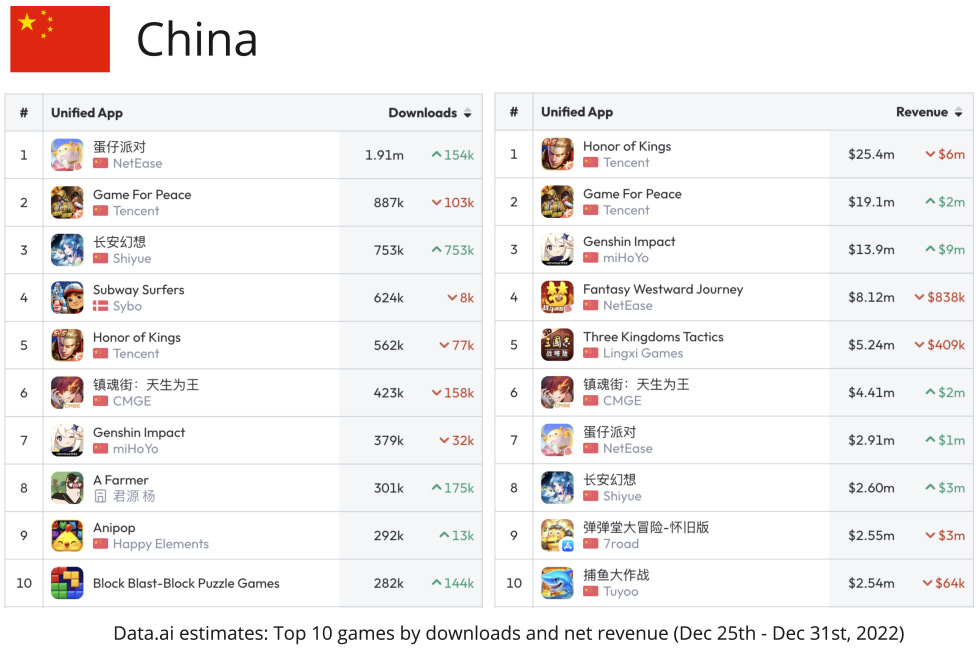 ---
Top 5 News
GamesIndustry.biz presents… The Year In Numbers 2022 (GamesIndustry.biz)
GamesIndustry.biz has put together several statistical infographics summarizing the games industry in 2022.
You should go check it out, but here are some highlights: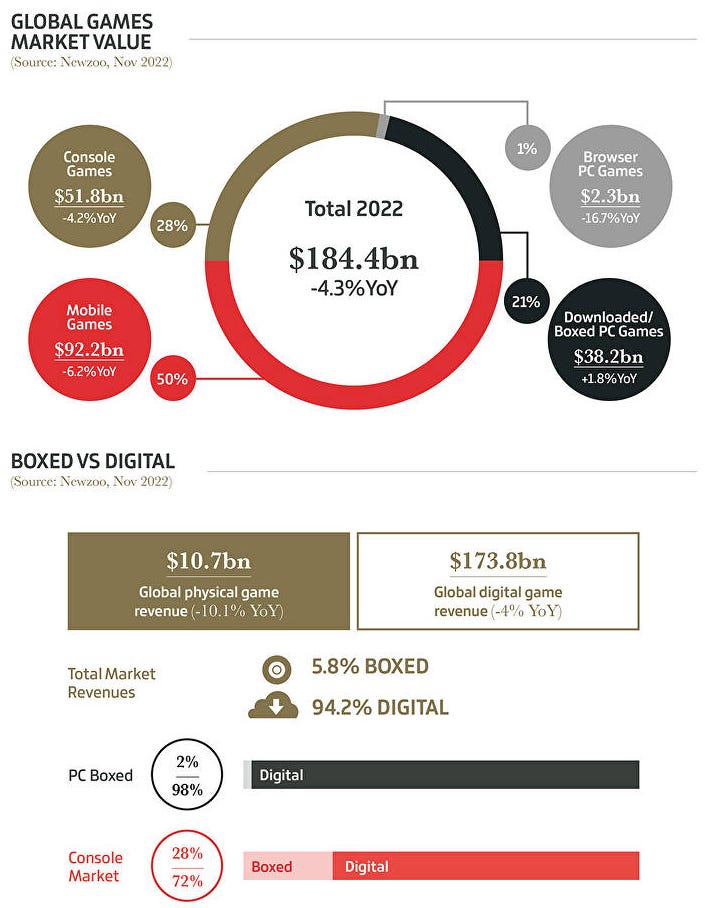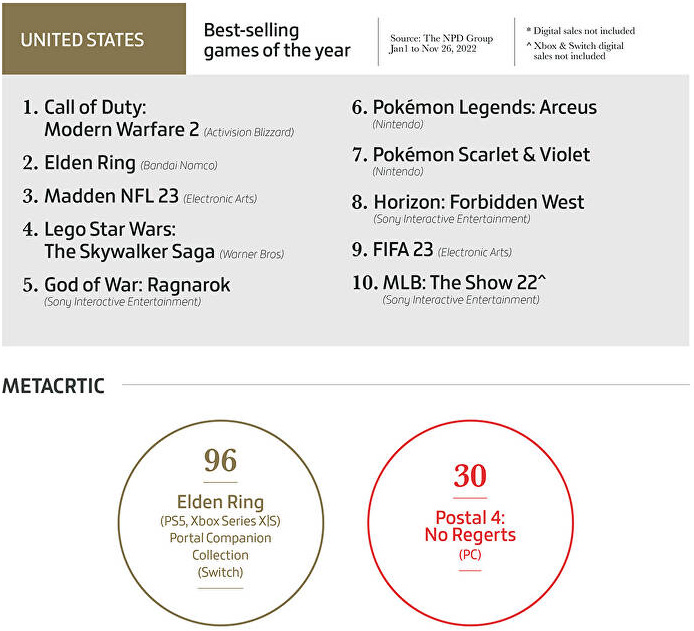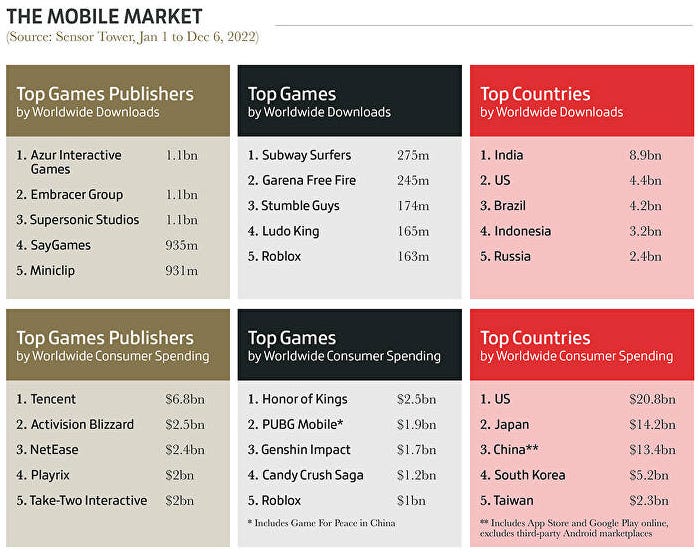 Your IAP spend is hosed!
Appfigures recently posted a bullish forecast on Uber and the macro economy based on data from Uber on new riders and new drivers.
New riders: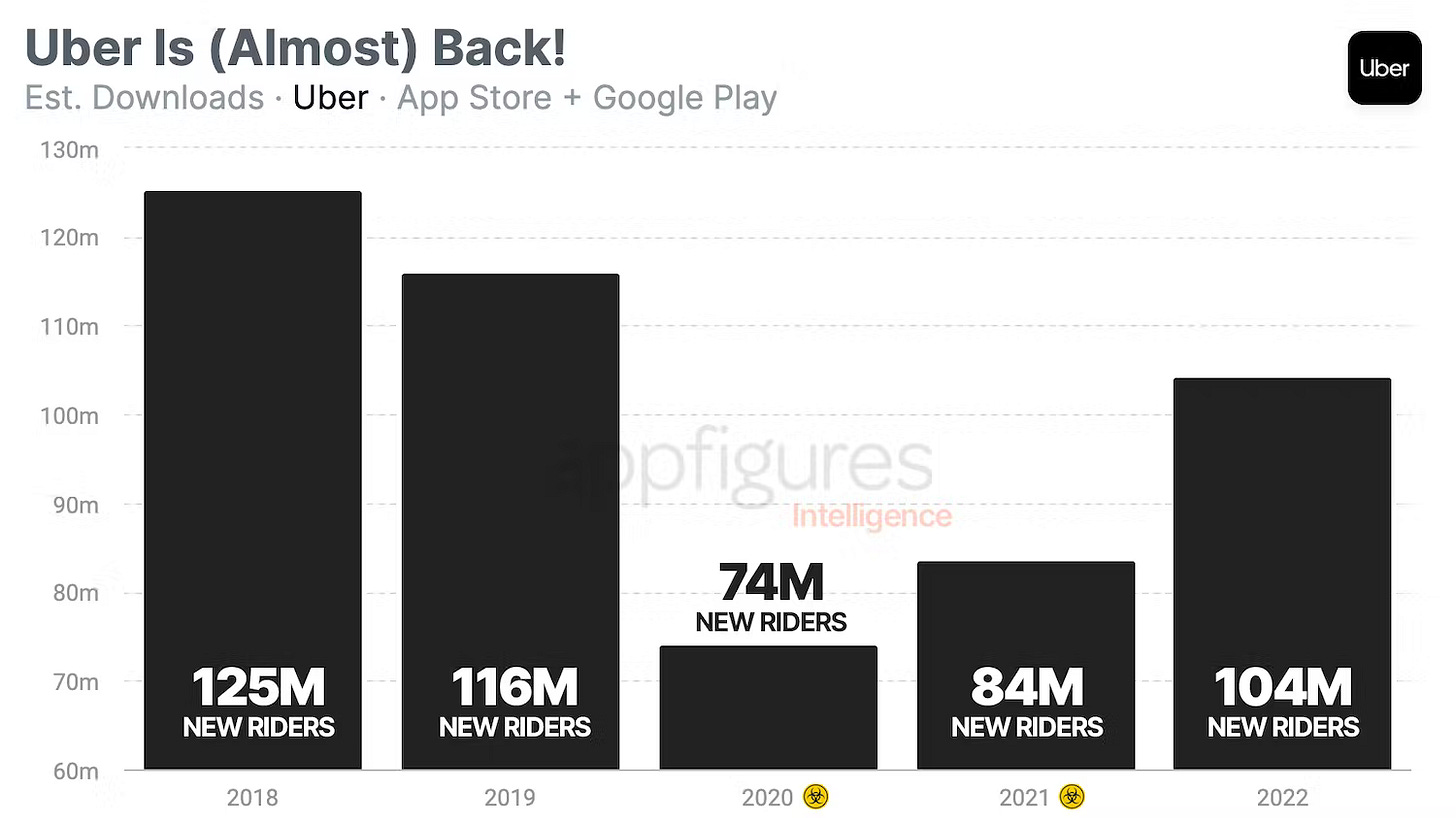 New drivers: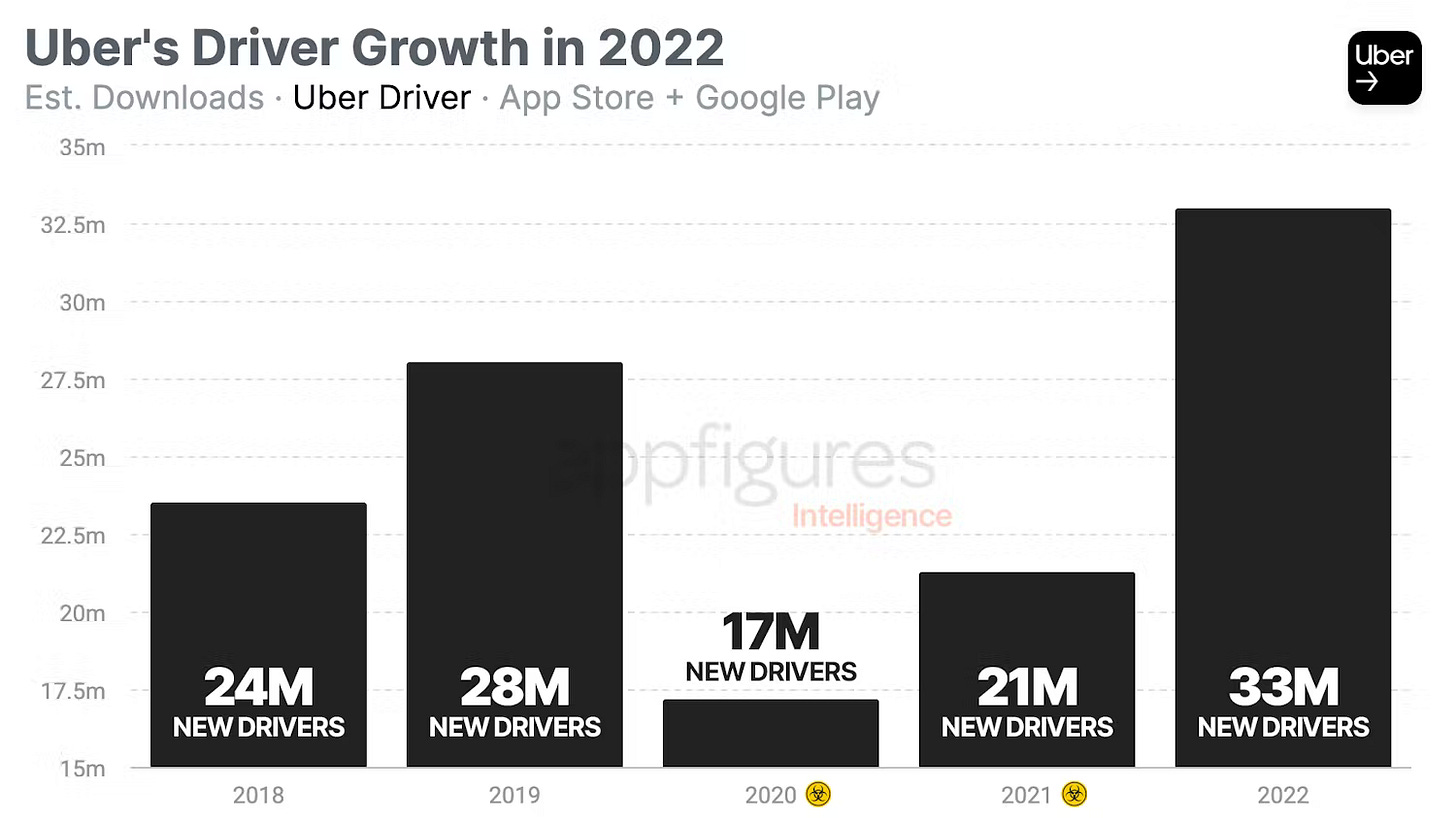 While I agree with the overall positive trend for Uber, I disagree with the bullish sentiment on the macro economy.
Since the early days of Covid, Aswath Damodaran's predictions of the impact of a recession on discretionary (optional expenses) vs. non-discretionary (expenses people need to spend like rent or food) spending have been super prescient.
In the context of gaming spend, we see an extremely high value for fixed price gaming products like spending $50-$70 for God of War Ragnarok or Pokemon Violet. Therefore, we should expect a shift to spend towards these kinds of products relative to other forms of entertainment, like going out to dinner, watching a $20 movie, or buying a round of drinks at an SF bar! Lol.
However, we should treat IAP spend as discretionary. You can still play without the whale spending behavior in many of the highest monetizing games, and those forms of spend are often not a good substitute for lower cost forms of entertainment.
When I look at the Uber statistics, I see an overall negative outlook for our economy. New riders are up despite many folks shifting to work from home. While there's a bullish case for new riders growth, there's also a negative interpretation. Could this mean more people aren't buying cars or are upside down on their car purchases over the past 2-3 years?
When I see new drivers hitting an all-time high, the other interpretation is that more people are finding it difficult to make ends meet without taking on an extra job to help close a gap in their non-discretionary spend requirements, e.g., they need to work an extra job to buy food or pay the rent.
In this scenario, IAP spend could be flat and likely down over the next two years or so as we continue with a global recession. Further, game developers will need to adjust to monetizing their games in a way that provides more value vs. the good old days of the past 10 years.
As a guy who led the development of a top-grossing 4X game, it's not great to see this trend. F2P game developers will need to adapt or get dominated by someone else who adapts more quickly.
Josh Ye (a dude you should follow on Twitter) from Reuters is reporting on potential corruption issues within Tencent:
The founder of Chinese tech giant Tencent Holdings Ltd told employees many "corruption" issues had been discovered within the company and mismanagement was draining its vitality.
Pony Ma calls out employees: "Your projects can't even survive as a business – they are living on life support, but still you just cheerily play ball on the weekend."
"Tencent reported a second straight quarterly revenue drop last month as China's economic slowdown and regulatory scrutiny hit its ad and gaming businesses."
"Up to the previous quarter, Tencent had reported double-digit growth for almost every three-month reporting period since going public in 2004."
"Ma… also said the company needed to focus on short video for future growth, and described the WeChat Video Account, Tencent's short video platform, as the 'hope' of the Shenzhen-based company."
"[Ma] warned that the video gaming business group would have to get used to Beijing's strict licensing regime, and the number of new games China would approve would remain limited in the long run."
There wasn't much coverage of the "corruption" issues in the post. However, from my experience with other bigger Chinese games publishers, I can say that some of these practices may include a requirement to bribe internal folks for initiatives to move forward, political trading of favors rather than merit-based decision-making, and career advancement based on bribes/payments.
To Pony Ma's point, these kinds of inefficiencies drain companies' effectiveness and "vitality." To be fair, many of these issues exist in many large companies globally (not just China) and it's only incredibly rare leadership teams that can make larger organizations run efficiently.
I've been hearing a lot of skepticism, especially more recently, on the video game roll-up types of companies like Embracer, Stillfront, MTG, etc.
I'm a fan of these guys and I wish them the best. However, I do understand the skepticism. We are no longer in an era of M&A growth on the back of questionable accounting and UA practices. We are no longer in an era of zero interest rates. The game has changed.
Will Embracer thrive in this new era and environment for the video games market?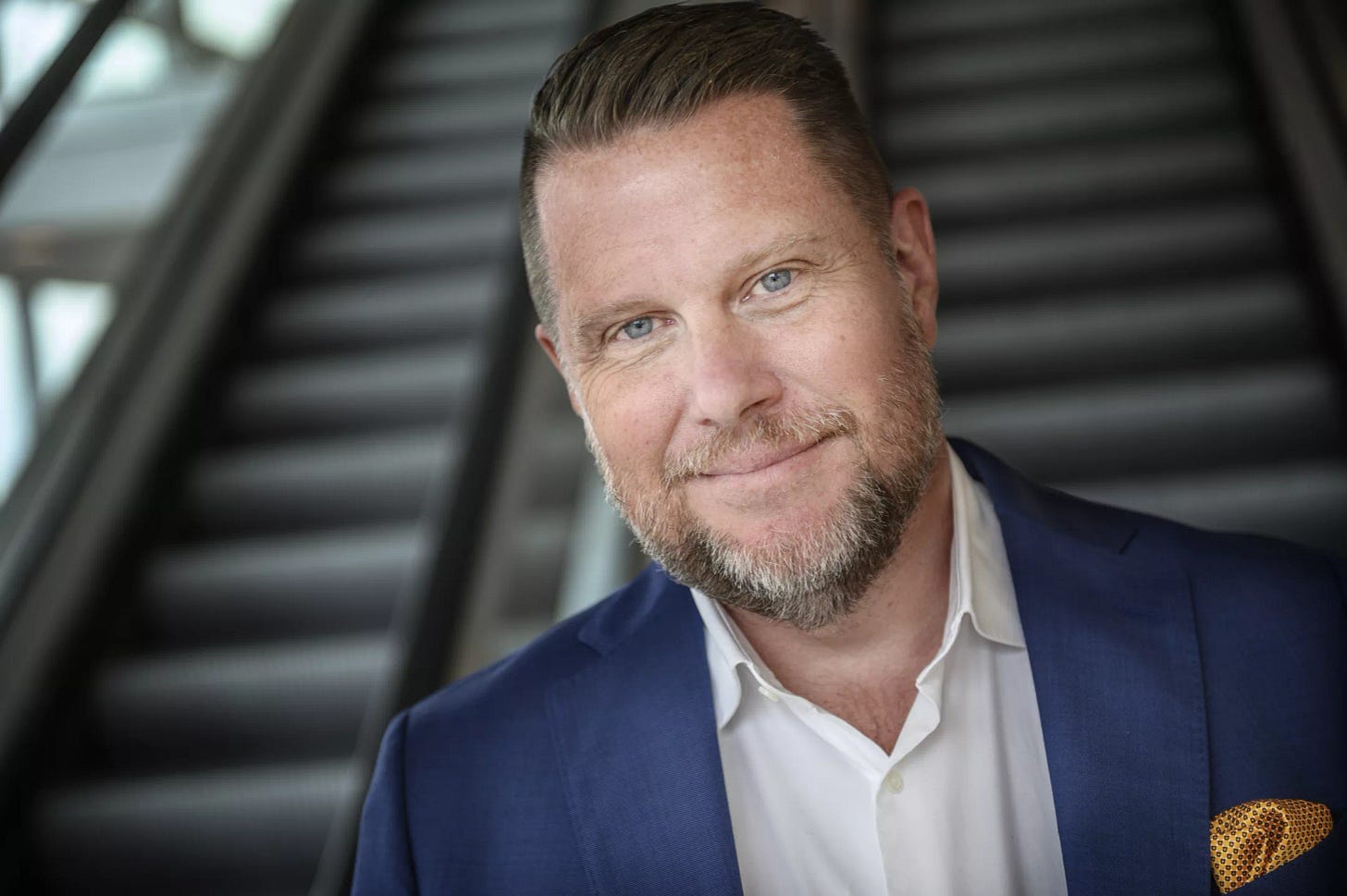 The LA Times had a nice overview of Embracer, and its CEO Lars Wingefors. Although admittedly a bit of a fluff piece, the article does a nice job of detailing the history and current state of Embracer:
"Embracer is a $5.7-billion publicly traded company headquartered here in Karlstad, Sweden — Wingefors' sleepy hometown of 65,000 people, about 160 miles west of Stockholm — and owns more video game studios than any other corporation in the world."
"He buys games that are either little-known or past their prime but have dedicated followings, such as 'Tomb Raider,' 'Legacy of Kain,' 'Duke Nukem' and a handful of 'SpongeBob SquarePants' titles, which haven't seen new releases for years."
"In the last year, Wingefors has set his sights beyond games, purchasing the rights to the 'Lord of the Rings' franchise from the Bay Area group that manages derivatives of J.R.R. Tolkien's literary works, acquiring a French company that's among the world's largest board and card game makers and buying the Oregon-based publisher of 'Buffy the Vampire Slayer,' 'Hellboy' and 'Sin City' comics."
"Today, Embracer oversees 237 games being developed across 132 studios on every continent except Africa and Antarctica. More than 15,000 employees work for Embracer or a company under its umbrella."
Also, you can check out my own interview with Lars and other Embracer folks last year below:
New YouTube policies demonetize more gaming content (VentureBeat)
It's 2023, and some people still don't understand that the success of F2P games is inordinately impacted by the market environment and by distribution. In fact, the entire premise behind F2P, aka "Free to play," was distribution!
Distribute games for free and then use top-of-funnel to convert monetization downstream.
Influencers today are the new marketing for games. Ask Valorant, ask Apex Legends, ask Among Us. So, for all of us in game development, we should be aware when one of the biggest drivers for game marketing makes a major policy change.
According to VentureBeat, YouTube is now demonetizing violent game content.
"Last month, YouTube announced updates to its content moderation policies that would roll out before the end of December."
"Content creators, particularly in gaming, are reporting increased rates of demonetization suggesting these changes are in effect."
"The Advertiser Friendly Guidelines focus on giving creators greater transparency into how videos are evaluated for demonetization on topics such as inappropriate language and violence."
"The policy seems to be taking issue with violence depicted in video games more broadly."
"Videos will not be eligible for monetization if they include 'graphic dead bodies in a non-educational video' or 'ultra graphic violent acts (including those involving law enforcement) and injuries.'"
"Many creators reported that videos featuring gameplay from The Callisto Protocol were demonetized. This massive change will disincentive creators from playing games that are too questionable. Otherwise, they risk not getting paid by YouTube for their time."
Remember: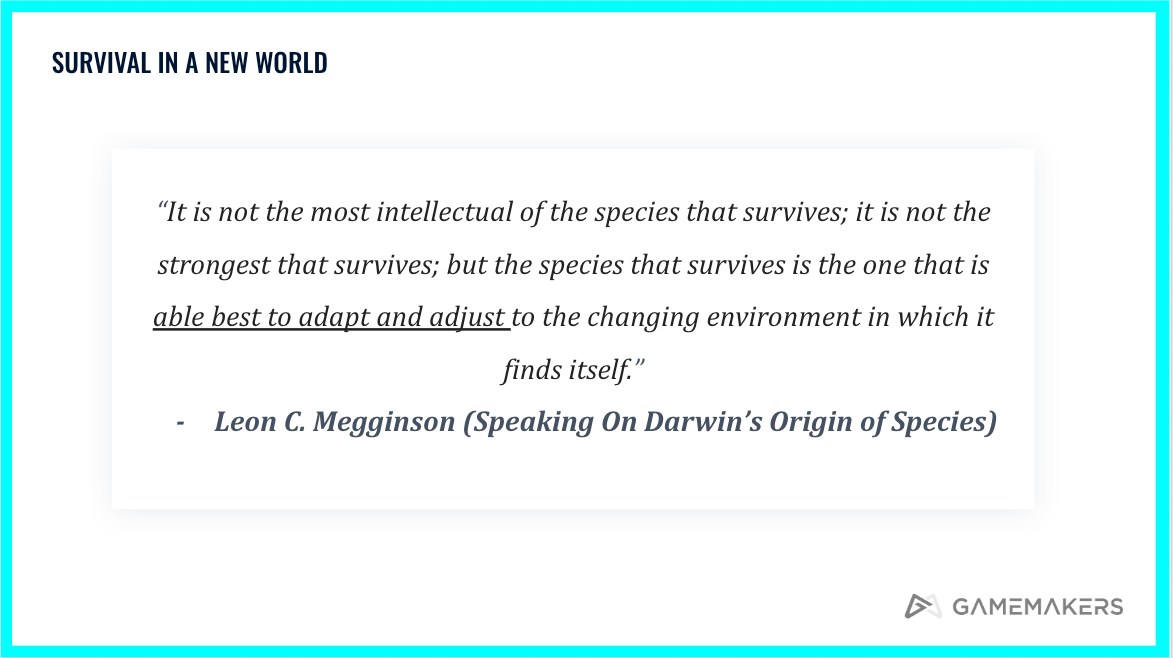 ---
Written by Joseph Kim and Ryan Wilson.