FTC files to block Microsoft ATVI acquisition, PUBGM hits $9B, Best Selling Games of November, Elden Ring Director "No Idea" Why Successful, Apple Offers More IAP Price Options.
Good morning from Bangalore, India. We've got a great event coming up this Saturday. John Kelly, Creative Director at Playsimple, will give another talk on F2P game economy: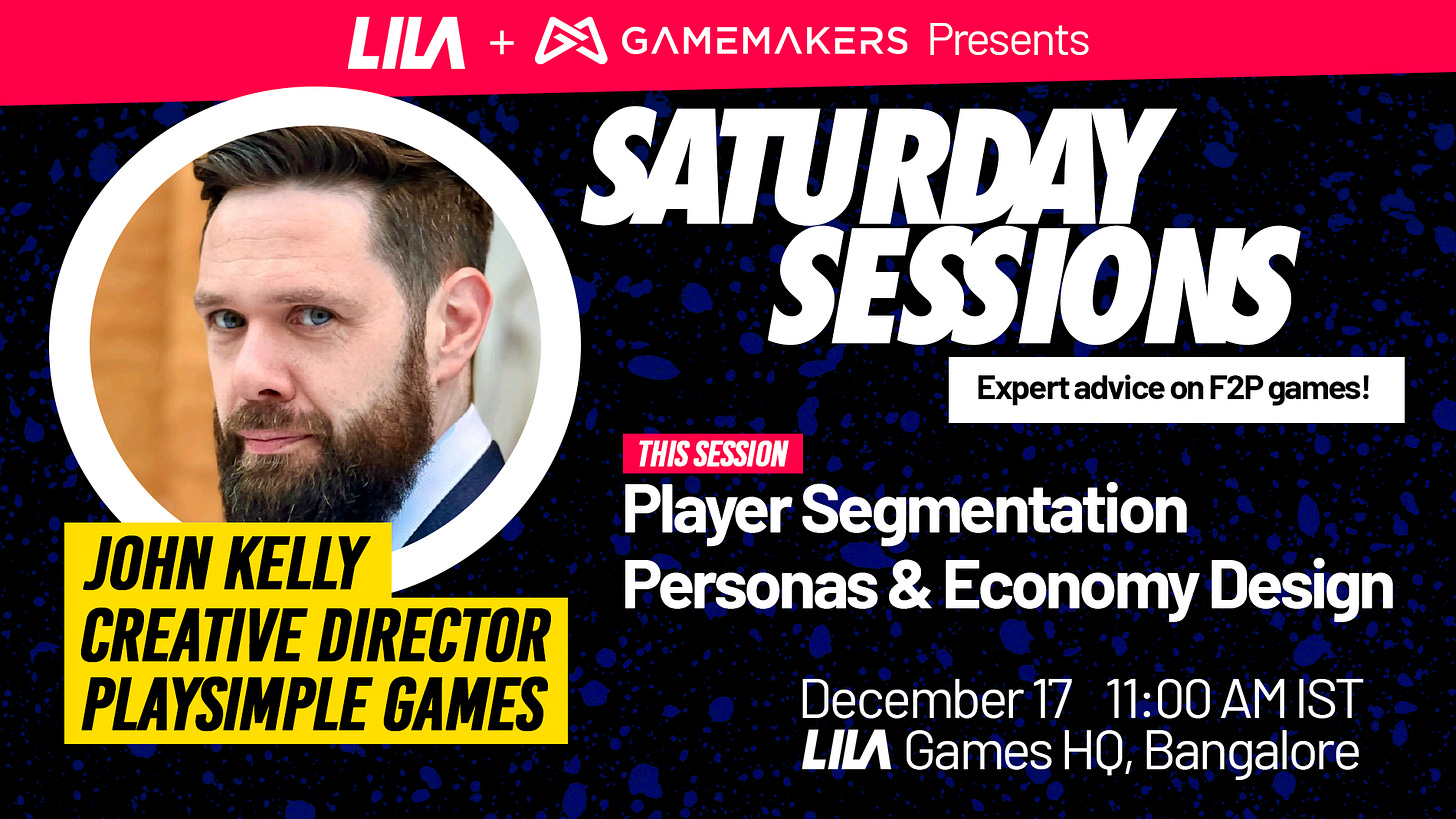 If you're in Bangalore, come see us in person! Otherwise, catch us live or catch the replay. Signup below:
Also, check out John Kelly's previous talk and interview with me below:
---
Top 10 Charts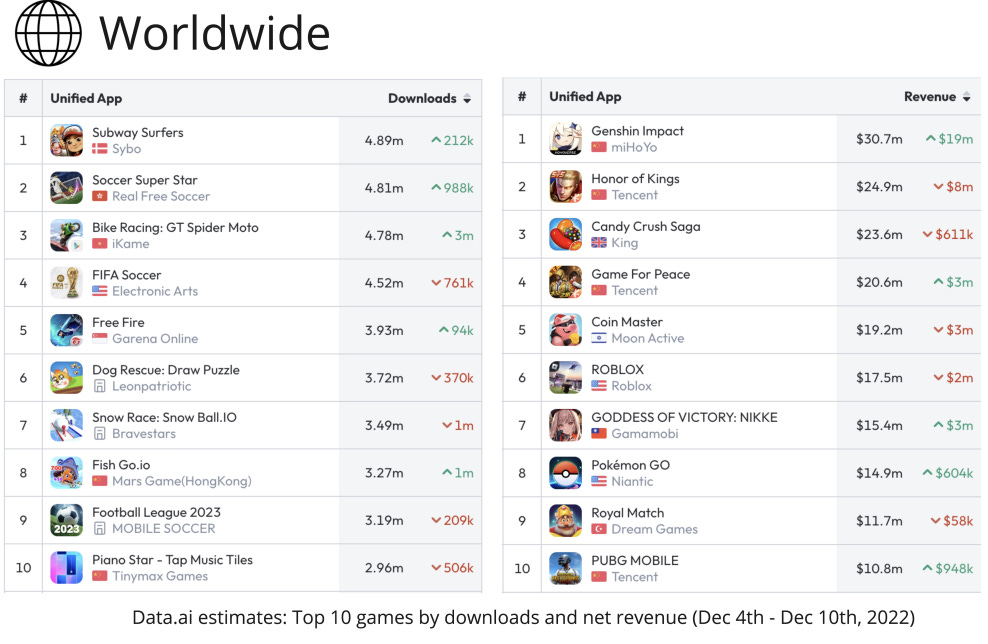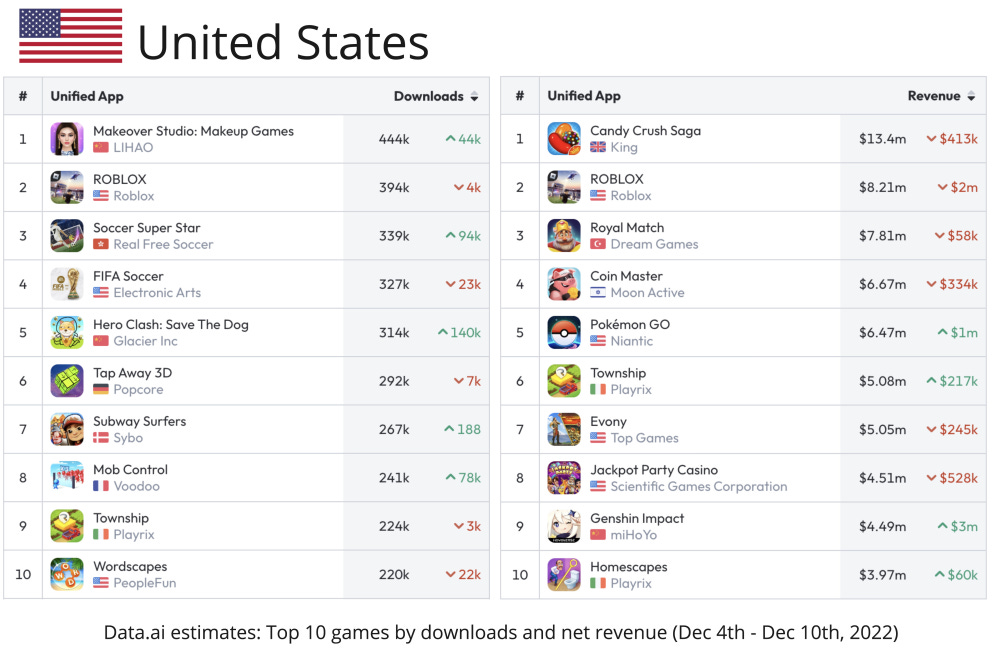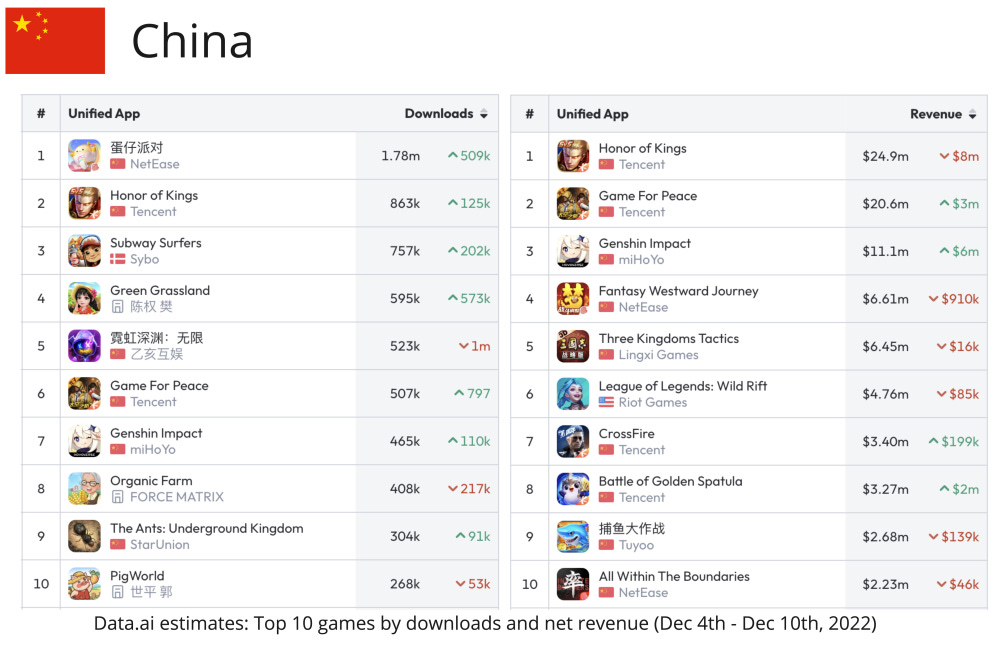 Market Data
Top 10 Publishers by Net Revenue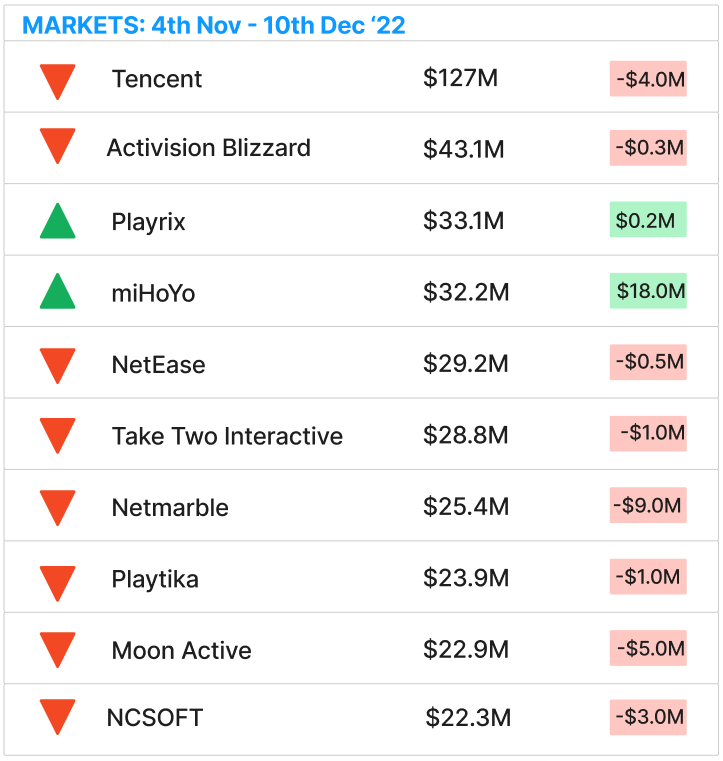 Hot damn, this past week is red AF besides MiHoYo! Ouch Netmarble.
Top 10 Trending Downloads & Revenue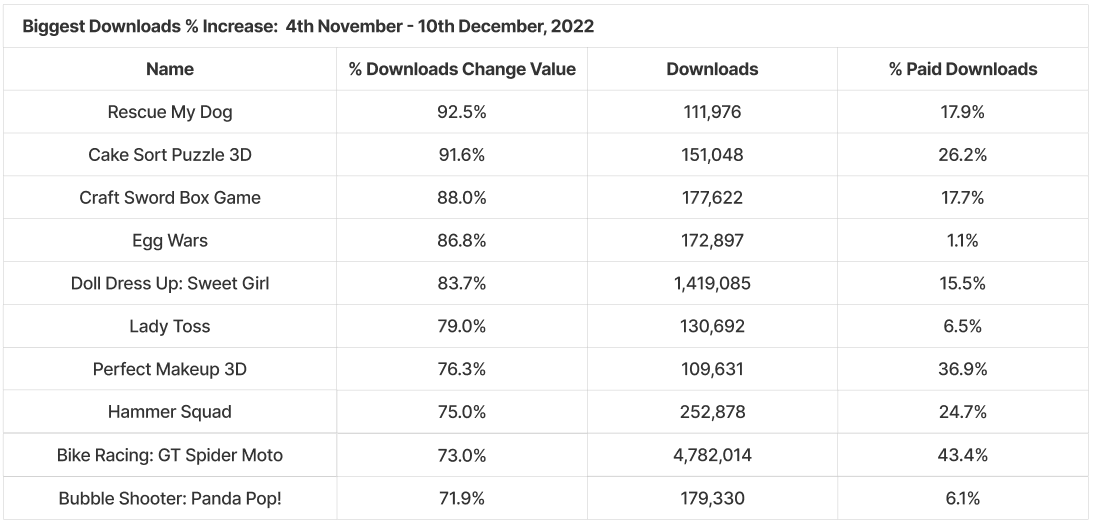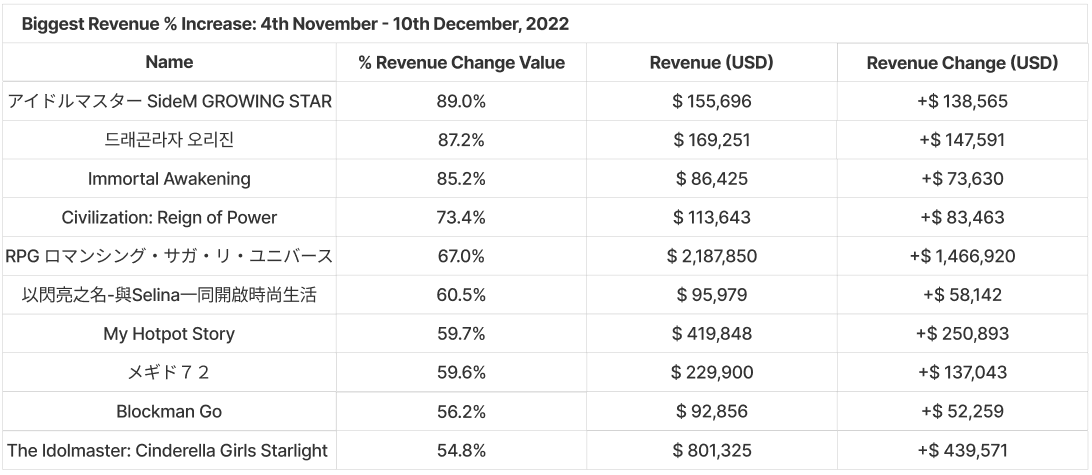 ---
Top 5 News
The FTC files suit to block Microsoft's Activision Blizzard acquisition (gamesindustry.biz)
There is a 4-member FTC commission deciding on this issue, and they voted 3:1 in favor of issuing the complaint.
Estimates to complete the merger by June 30 are likely delayed.
The primary reason cited for the complaint was Microsoft's history of: "acquiring and using valuable gaming content to suppress competition from rival consoles."
FTC also cited that in the ZeniMax acquisition by Microsoft, in this case, Microsoft intends to keep Starfield exclusive to XBOX and PC.
Note that Microsoft has offered Sony a 10-year contract to make Call of Duty available on PlayStation to assuage anti-competitive concerns:
Further, Microsoft has also extended a similar deal to Valve/Steam, although Gabe Newell has stated he doesn't think it is necessary.
Many social media "experts" suggest the 10-year contract with Sony should appease the FTC. I would tend to believe that narrative as well.
Good luck to Microsoft in getting this through!
PUBG Mobile hits $9B in lifetime consumer spending (VentureBeat)
VentureBeat cites Sensor Tower data for PUBG Mobile, suggesting:
$9B in total consumer spending since launch.
1.1B installs.
$5.2M per day in revenue.
Gross vs. net revenue was not specified – come on, VentureBeat, this is sloppy. They are likely trying to clickbait for headlines, so it's likely a gross estimate. At some point, game reporters should actually try to learn the business of games instead of just trying to make headlines.
To be clear, no serious game developer would use gross numbers unless you're trying to fool somebody.
Also, something doesn't seem to be adding up to me. Let's take 15 minutes to check the numbers.
A few data points:
PUBG was released in March 2018.
KRAFTON reported about $1.1B in revenue from "PUBGM, New State, BGMI, Tech Service, and more" in 2021 based on their financial reporting (see below).
Data.ai shows about $831M for PUBGM in 2021, which seems consistent with KRAFTON's financial reporting.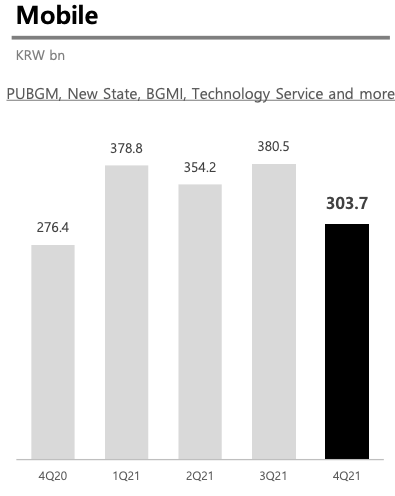 1,417.2 KRW bn ~ USD 1.1B (by today's conversion rate).
So, if you believe VentureBeat, four years (2018-2020 and 2022) made up over $8B in revenue? From KRAFTON itself and data.ai, we know that 2021 should have represented less than $1B.
Something's not adding up to me with Sensor Tower numbers and/or VentureBeat reporting.
Am I missing something, or does this seem off to you too?
GameSpot cites NPD's November monthly report showing a few surprises.
Call of Duty: Modern Warfare 2 has become one of the best-selling games in the franchise ever and has passed Elden Ring as top-selling paid game in 2022 despite only being out for less than a month
Surprisingly, cracking the top 5 is Sonic Frontiers! Go SEGA go!
The top 10 according to NPD for November:
COD: MW2
God of War Ragnarok
Pokemon Scarlet and Violet
Sonic Frontiers
Madden NFL 23
FIFA 23
NBA 2K23
Gotham KNights
Spider-Man: Miles Morales
Mario Party Superstars
NPD had previously predicted Elden Ring would be the top-selling premium game. Currently, Elden ring is #2, Madden NFL 23 is #3, Lego Star Wars: The Skywalker Saga is #4, and God of War: Ragnarok is #5.
FromSoftware's Elden Ring has outperformed expectations from publisher Bandai Namco. According to 80LV:
80LV notes, however, that Elden Ring director Hidetaka Miyazaki cautions trying to read too much into this success. Notably:
According to Miyazaki on Elden Ring's success: "I try not to think about it too much because I think it would be a bad idea to analyze it deeply and to consciously try to replicate it in another game."
Further, he plans on making games: "the same way as before," trying not to be affected by Elden Ring's success.
Finally, LV80 notes that Hidetaka cautions about taking too much player input:

"The game director explained that it's not possible to listen to 'every single comment' from all the players and that choosing to only listen to selected players' comments might lead to a biased assessment.
Hidetaka stated: "If I only take on selected pieces of feedback, it might affect my future decisions as a developer, which I find rather unsettling," he said. "I know that I personally could not be fully objective, so I try to avoid being directly exposed to too many opinions."
There are a lot of schools of thought on player feedback; remember, no single approach is right for everybody or all situations!
More flexibility:

"Apple will allow developers to choose from new pricing options in its App Store, giving them hundreds of new choices for subscriptions and for their apps in the US starting as low as 29 cents and going as high as $10,000."
"Under the new system, Apple said it's offering 700 new price points to developers, dramatically increasing options from the 200 it offered previously."

Pre-approval for high price points: "Apple said its highest price points, including $10,000, will need pre-approval from the company to protect users from accidental over-billing. The company isn't changing its commission structure, though. It will still charge up to 30% for purchases made through the App Store."
Note that Apple has historically been against adding new price points and advocated for keeping things as simple as possible. Further, this move was likely forced: "In August 2021, Apple said it would expand the number of App Store price points as part of a $100 million class action settlement with some developers."
---
Written by Joseph Kim and Ryan Wilson.