In the new world since post-Apple IDFA deprecation, mobile marketing has become more difficult than ever.
According to Consumer Acquisition, a leading marketing services company, consider the following key issues:
Margin Loss: IDFA deprecation has created a -30% margin compression for many game studios against their game revenue.
Loss of Lookalike Audiences: With the deterioration of lookalike audiences, Consumer Acquisition submits that contextual and interest-based targeting will be more performant.
New Concept Development is Difficult: After performing over 25,000 multivariate tests on Facebook, Google, Tiktok, and Snap, Consumer Acquisition has learned that 85-95% of new creative concepts fail to outperform the best ad in an existing portfolio. Hence you may need 20-50 new concepts to find your next winning creative.
Therefore, what is a good system to generate new and winning ad creatives?
To answer this question, I spoke to two industry-leading experts to get their take on following a structured approach. This kind of approach helps improve the output and effectiveness of ad creatives.
Speakers:
Both Consumer Acquisition and Zynga have their own structured approaches which they reference in the video.
Here's a high-level overview of Consumer Acquisition's approach:

Applying a high-level framework to the approach ensures that a lot of different ideas are tried. In Consumer Acquisition's Ad Concept Model, they first analyze specific trends utilized by competitors as a shortcut to determine approaches that are likely to work. Then, they develop specific personas based on the user motivations of potential players for the game.
From there, new ad concepts are generated based upon the cross of the user motivation and the competitive trend identified in the first step: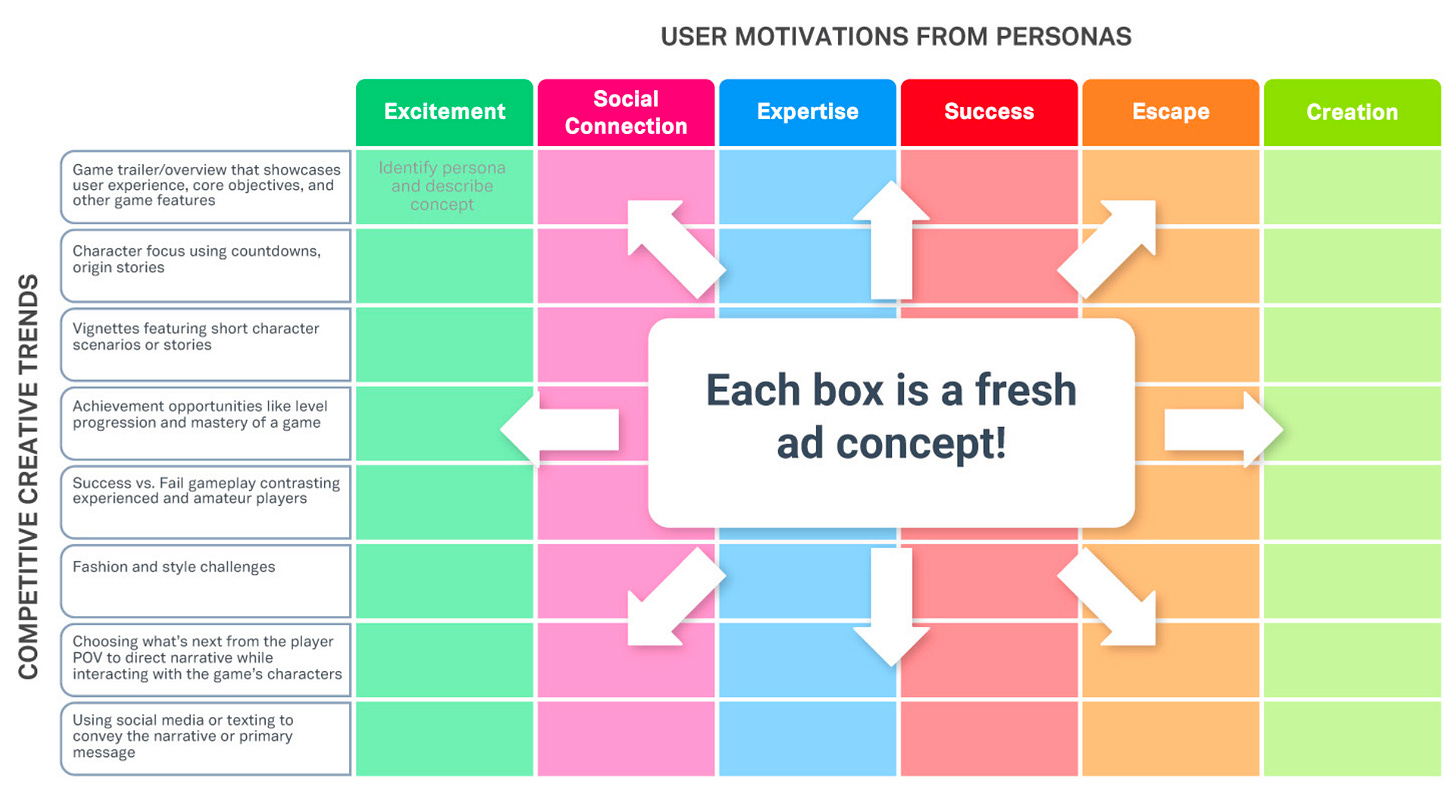 For a full breakdown of this approach, check out the Consumer Acquisition white paper on the approach: